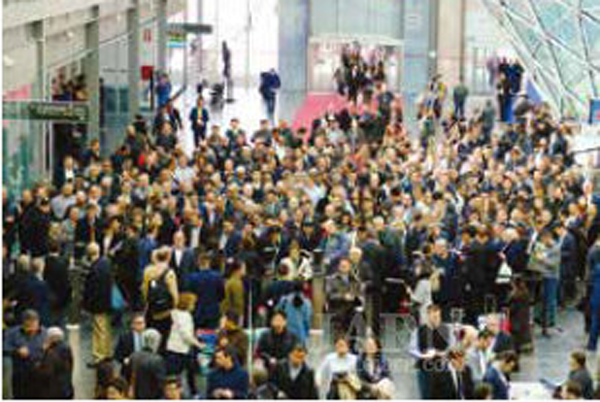 Mostra Convegno Expocomfort (MCE) was held from March 13 to 16, 2018 in Milan, Italy. Together with the first edition of Biomass Innovation Expo (BIE), MCE attracted more than 2,400 exhibitors and 162,000 trade visitors who made their way to the show from all over the world. There have been increases in the numbers of overseas trade visitors coming from 140 countries such as India, Country Guest of the 41st edition of MCE, Asia on the rise with high levels of attendance from the Far East including China, Japan, and Vietnam, and the Middle East including Jordan, Saudi Arabia, Syria, and Palestine. In addition, the Americas registered major in-creases in figures. As always, the European presence was also significant, with many visitors from Ukraine, Romania, and Croatia in particular.
JARN also attended the expo and is providing our readers with this report on MCE 2018.
RACs with R32 as Leading Industry Trend
New refrigerants constitute the keyword that most aptly describes this year's MCE.
Numerous European compressors were showcased at the exhibition, and other leading manufacturers of key components and parts also brought on-site environmentally friendly and energy saving products applicable with all types of new refrigerants. In addition, leading air conditioner manufacturers exhibited their products operating on new refrigerants. The direction of refrigerant substitution in the European air conditioning industry is still unclear. However, it can be seen that the hydrofluorocarbon (HFC) refrigerant R32, which was proposed by Japanese manufacturers, has become a trend in new room air conditioners (RACs) exhibited at the expo. Not only at the exhibition but also in the actual European market, R32 RACs are increasingly accepted, particularly in Italy, France, Germany, and the United Kingdom.
However, HFC refrigerants were added to the list of controlled sub-stances in October 2016 and will be phased out by F-gas regulations in the future. Therefore, R32 is not expected to be permanently used, but is the most prominent candidate for RACs at present.
Meanwhile, propane (R290) RACs from a Chinese manufacturer were certified to use the Blue Angel Ecolabel issued by Germany-based label contracting body RAL during the expo.
VRFs Remain Popular
Compared with variable refrigerant flow (VRF) systems for commercial applications, mini-VRFs for light commercial applications enjoy great popularity in Europe. A greater number of units and types
of mini-VRFs were seen at this year's MCE. Mini-VRF outdoor units are more compact than VRF units and can be installed at the top of buildings or in other concealed places, and do not impact the aesthetics of the appearance of buildings. Diversified indoor units are able to match the décor or fit in well with the room with a unique European style.
More product types were also developed for VRFs, including water-source VRFs and heat-recovery VRFs.
Although there are safety restrictions in the volume of R32 refrigerant charge, Daikin and Mitsubishi Electric exhibited their mini-VRFs operating on R32. Daikin showcased its 12-hp R32 VRF for the first time, attracting many visitors.
Chiller Exhibits Increase
Unlike previous editions, many chillers were on show this time. Ac-cording to interviews with industry insiders, a number of customers still prefer chillers to VRFs because of the unclear future of replacement refrigerants which will affect VRFs with larger refrigerant charges to a greater extent.
Oil-free magnetic bearing centrifugal chillers are a promising product. With the debut of the high-lift magnetic bearing centrifugal compressor, the air-cooled heat pump chiller is able to cover most sectors of the European market. More manufacturers are increasing their investment in magnetic bearing chillers, bringing vitality to the chiller market. Many Asian manufacturers are also penetrating the European market with chillers.
Due to pressure regarding environmental stewardship, European local chiller manufacturers have started using R32, hydrofluoroolefin (HFO), and even R290 refrigerants in their products.
ATW Heat Pumps Become Standard Configuration in the Heating Sector
Not only air conditioner manufacturers, but also boiler manufacturers showcased their air-to -water (ATW) heat pumps at the expo. Compared with previous editions, greater numbers of light commercial and commercial ATW heat pumps were on show, in addition to greater numbers of models suitable for residential applications. Many manufacturers of compressors and heat exchangers also displayed their products for ATW heat pump applications. With the development of heat pump technology, new ATWs are capable of effective heating in cold climates.
In Europe, new apartments are required to meet stringent energy saving standards, taking into consideration the heating load, energy consumption, and airtightness of the building. Traditional boilers are not able to address these regulations, and renewable energy equipment such as ATW heat pumps need to be added, which will encourage market growth. Just like RACs, ATW heat pumps applying R32 are also being launched in the market. Eco Cute systems using CO2 as a refrigerant for commercial applications were displayed at the exhibition.
Refrigeration with Low-GWP Refrigerants
In the refrigeration field, compressors and condensing units applying CO2, NH3, R290, HFOs, and R600a were showcased. European key component manufacturers have demonstrated their competitiveness.
Refrigerant Issues
With restrictions on high global warming potential (GWP) refrigerants in Europe, the prices of refrigerants have been increasing, due partly to limited supply, which adversely affected air conditioner manufacturers.
In addition, manufacturers are limited in their use of HFC refrigerants within their quotas. In order to maintain their quotas, some Asian manufacturers export dry systems to Europe, which are then charged with refrigerants by local European partners with larger quotas. However, this is not a long-term solution.
Some manufacturers are considering setting up refrigerant recovery systems as a countermeasure addressing refrigerant price rises and quota allocation.